BRING YOUR 919 GRAIN TESTER
INTO THE 21st CENTURY!

Digital Upgrades to all Model 919 (Elevator Type)
Moisture Meters with our Patented Technology
FACTORY APPROVED AND FIELD PROVEN
SINCE 2003
  
Pioneer in the Digital Conversion
of the Model 919 Grain Tester
                        
With the rising costs of farming, the future of grain testing demands faster and more accurate results. Since the Quantum 919 Digital retrofit for the Model 919 was introduced in 2003, these demands have been met. Benefits of the absolute null point and a built-in calibration check shall not only eliminate guesswork, eye strain and downtime, you may never have to ship this meter to be calibrated... ever.
Same 919 Accuracy As Analog Models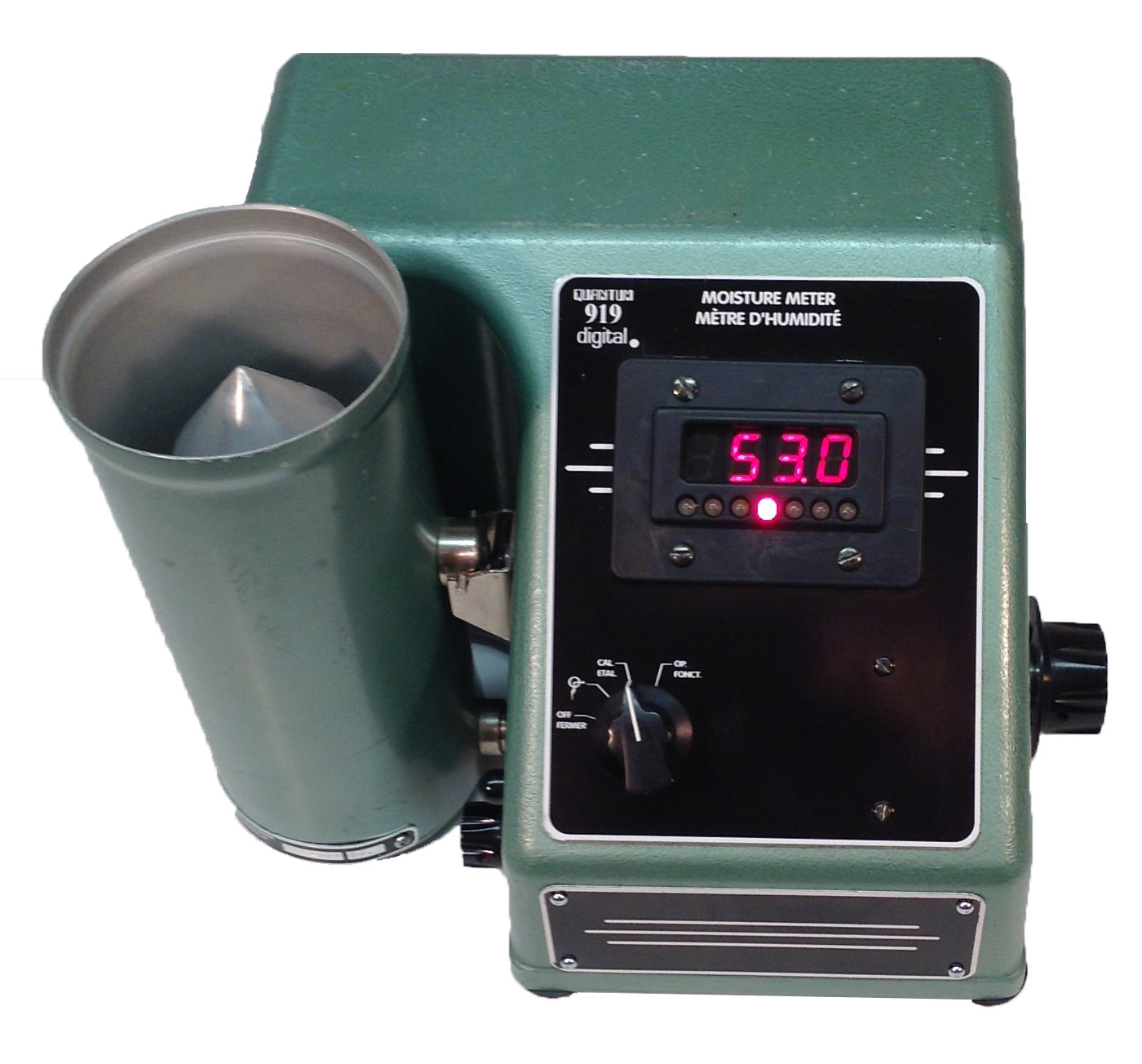 View Digital Results From Any Angle
*NO MORE GUESS-WORK*
*NO MORE EYE-STRAINING*
*NO MORE READING GLASSES*
Accurately Measure Wheat, Oats & Everything In Between!
Compatible with CGC & Custom Charts for the 919/3.5 Cell
COMPLETE COMPATIBILITY

CLICK ON THE 919 CASTING TO SEE OUR YOUTUBE VIDEO

With very few modifications made to the Model 919 in over 55 years, this digital system is designed to conform to virtually any 919 casting. Using the existing mechanical components of your tester, the unit is refitted with our patented digital reader and display. The simple operation of the meter's function is left unaffected without any new procedures to learn. We also convert the 3" cell to 3.5" as well.

Custom made charts for use with the Model 919 as well as charts supplied by the Canadian Grain Commission retain their compatibility as well as new ones being developed for the existing 919 technology. Regardless of the age, brand or condition of your meter, the Quantum 919 Digital is ready to bring your 919 into the 21st century.
INTERNATIONAL STANDARDS
Calibration of the Model 919 is set to international standards. Keeping your 919 calibrated to .2% of this standard is easy to perform with our built-in reference point check system. Our meters are checked monthly with the Canadian Grain Commission to ensure you receive a properly tuned and calibrated unit. A unique number is given to each converted meter as a calibration reference check for when you're down the road.
DIGITAL CONVERSION PRICES

DMM2 Kit $345.00... digital reader / hardware

Installation 100.00 includes repairs. Parts extra

Calibration 150.00

------------------------------------------------

TOTAL $595.00 CDN